After experimenting with several different versions in order to perfect this almond-free Paleo loaf – I am finally satisfied with my delicious creation. I am also happy to be sharing it because it is super easy to make! Just throw some ingredients into a food processor and put it into the oven.

I have even found that it is a lot easier just to wet my hands and shape the dough into a long roll form. However, you are more than welcome to use a bread tin of some sort when baking this bread.
As you may already know, I have a pretty annoying allergy to almonds. For a while, I thought I had reached the end of ever baking another decent Paleo good. Luckily, I was gladly wrong. It took my recent realization of how much I truly missed my bacon and eggs on toasted bread in the morning to get me motivated to create an alternative. I started to strike gold around version 3.
Version 3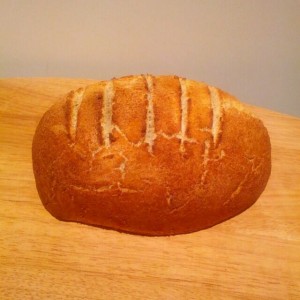 Since then I have done a bit of tweaking and tried to make it a little less moist. However, to be honest I think it is just destined to be a bit moist as its so full of delicious flavor. It's almost like cake in some ways

To achieve a crusty outside you will need to coat the loaf with a bit of coconut milk once you have formed your loaf shape. This gives the crust a flavor boost. Also, cut several deep lines with a knife into the top of your loaf because doing this…just looks super cool in the end!

If you improve on this recipe or add to it, be sure to tag me or let me know as I'm always extremely impressed with other people's skills.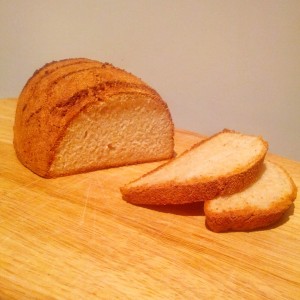 Almond Free Crusty Loaf
2014-11-25 23:29:59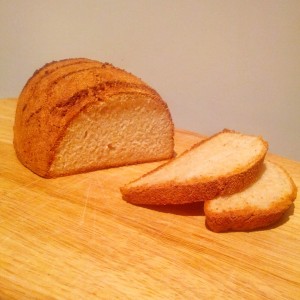 Ingredients
1 cup tapioca/arrowroot
1 1/4 cup coconut flour
1/3 cup psyllium husk
1/4 tsp Himalayan rock salt
2 tsp baking powder
3-4 eggs depending on size
1 tbs coconut oil
1 tbs honey
1/2 cup coconut milk
1/2 cup boiled/hot water
Instructions
Preheat oven to 180c
Mix dry ingredients in a food processor and mix
Add eggs, milk, oil and honey into a cup and slowly pour in while mixing
Add the water and turn up the speed
Once dough forms wet your hands and scoop it out, kneed together until firm
Place onto parchment paper and form a long roll type shape, coat with some coconut milk and cut several slits with a knife
Bake for 45-50 minutes
A ModernCaveMan http://www.amoderncaveman.com/