-Version 3 (almond free)-
In order to make these buns pretty much exactly the same but without almond meal. Simply use 3/4 cup coconut flower with 1/2 cup tapioca/arrowroot flour.

-Version 2 update-
I have revised the recipe and made them version 2

Basically I have found that using coconut cream (or putting the coconut milk in the fridge and using the top cream) instead of the regular milk makes the rolls much more fluffier. I have also swapped 1 Tbs of sesame seeds for chia seeds (optional) and this has also made it even tastier. Updated recipe below.
For the people that have been following me on instagram it is no secret that I am hopelessly addicted to hamburgers. Long before going Paleo and long before even thinking about Paleo Bread Rolls I would travel to america on business frequently. Each time I would visit I would make sure to try as many fast food joints as possible in search of the holy grail, the best burger ever! For what it's worth I did find it eventually and it was from Five Guys. Yummy! However when going Paleo I quickly accepted that I would forever say good-bye to my secret love and mourned it's loss. Open style burgers filled an empty void and was still tasty, but something was missing. That was until after following The Merry Maker Sisters they posted a little link on their account to a paleo bread rolls recipe and I thought it was just too good to be true.
Paleo Bread Rolls Revolution
After finally discovering delicious paleo bread rolls I went to work creating all sorts of delicious hamburgers as it had been so long since I'd had a proper one. In fact I believe I got many of my followers through posting pictures of these healthy and delicious paleo burgers. A year or so later and I have been playing around with my own recipe and I wanted to come up with something that is easy enough for people to do and represents a real bread roll as closely as possible. After many failed attempts and a lot of tweaking I can finally give you my recipe. In order for the roll to retain its moisture I have found psyllium husk is the key to a perfect roll. Various forums on the internet tell you that this relatively harmless fiber is not paleo because of this or that. Recently celebrity chef Pete Evans posted a paleo bread recipe which has psyllium husk in it. As with all things in Paleo you have to test and see what works for you, I feel great after eating these rolls and nice and full and have no issues. Give them a try and see how you go!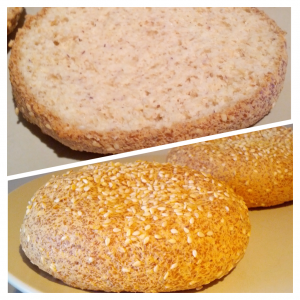 Paleo Bread Rolls V2
2014-08-18 15:26:57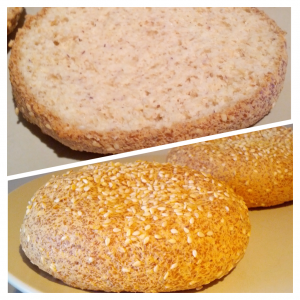 Ingredients
1 cup almond meal
1/4 cup coconut flour
1/4 cup psyllium husk
3 tsp baking powder
2 Tbs sesame seeds
1 Tbs Chia seeds
1/2 tsp salt
3 egg whites
1/4 cup coconut cream
1 cup hot water
Instructions
Preheat oven to 180C / 355F
Combine all dry ingredients into a food processor or mixer (I use plastic blunt blades for this)
On slow speed drop the egg whites and coconut milk in
Next pour the cup of hot water and continue to mix on a faster setting until 'dough' forms
I then keep my hands wet with water while I form 4 even balls onto a tray. Squash down with your hands and round them off. Lightly wet the surface and sprinkle some more sesame and chia seeds.
Cook for 35 mins
Notes
Resist the urge to open the oven to check on them, this can cause the roof to collapse!
You can make 4 decent sized rolls or two jumbo sub rolls!
A ModernCaveMan http://www.amoderncaveman.com/