I haven't been paleo all my life, I used to enjoy take out. I know the feeling of waking up in the morning with a hangover and all you want is a nice greasy mcmuffin of some sort to get you going. Problem is this used to give me about a 15 minute high, followed by a 3 hour low as my already hurt body struggles to find a single atom to put to good use in the junk food I just shoved down my throat. Enter the Paleo English Muffin which I only discovered after about 6 months of being paleo. My goodness what a life saver. Typically I will use some left over BBQ sausage and egg to recreate a real sausage and egg muffin and believe me it hits the spot! The good thing is that you can microwave this muffin to help make it quicker than you can hop in a car and get take out, so what is your excuse now?
Paleo English Muffin That Heals!
Now another good side effect of having real food for breakfast is that unlike quick fix junk food this will actually be put to good use and with proper hydration will start to fix your hangover straight away. If you don't drink then this is a nice and simple meal you can make the night before, wrap it up and put it in the fridge and heat it up the next morning for a true on the go breakfast. Don't have time for breakfast? I think you cannot use that excuse with this paleo english muffin. So give this great recipe a go and I suggest you add it to your must have paleo recipes.
Some of the variations I have made are:
Bacon and Egg and natural tomato sauce
Sausage and Egg
Avocado spread, Bacon, Egg, Mushroom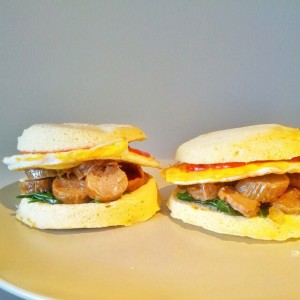 Paleo English Muffin
2014-08-19 14:14:39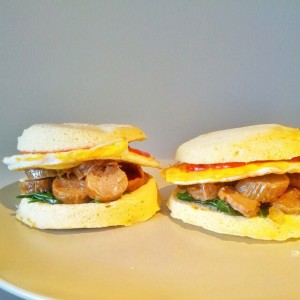 Serves 1
Ingredients
1 egg
1/2 Tbs tapioca/arrowroot flour
1.5 Tbs coconut flour
1.5 Tbs coconut milk
1/2 tsp baking powder
pinch of salt
Instructions
Add all ingredients into a small bowl or ramekin
Stir well with a spoon making sure all is mixed in and no mixture is along the sides
Microwave for 1:50 and slice in half...I place mine in the oven to keep warm while I cook the rest of my ingredients, which helps cook the muffin a little more
A ModernCaveMan http://www.amoderncaveman.com/