OK, I love my bacon! Let me just throw that out there, like really love it! But every now and then even a caveman needs a break from the usual bacon and eggs type breakfast and try something different. As it is winter here in Australia I remembered the old tradition, and the ease of warming up some porridge and taking that big risk of it getting to soggy or too dry and ruined. After having some white quinoa I thought that this surely could make a good quinoa porridge and I was correct! So I introduce my Honey Nut BlueBerry Quinoa Porridge. Yum!
Quinoa Porridge is Paleo?
That's a good question you ask and one that I frantically googled around to find the answer and I found conflicting information. I decided after nearly being paleo for 2 years that my own body will be the best judge. When I eat or drink something I shouldn't, believe me…my body will let me know! So I decided to take the plunge. Not only did this Quinoa Porridge taste great, it left me really full but without the bloating. I continued on with the good vibes and went for a workout and had sustained energy throughout. Not sure what was happening but I was loving it. A few taste testings later and I have determined that it's fine for my body and that is good enough for me. Obviously the same rule should apply to you. Don't just jump on the Quinoa bandwagon without being clean for 30 days and then introduce it and see how you go. Also keep in mind it does contain a lot of carbs and if eating clean for weight loss is a primary goal, then this little breakfast will not help! Especially if you have it a few times a week. Keep it as a treat and in moderation and you should be fine.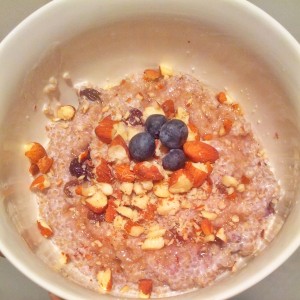 Quinoa Porridge (Honey Nut)
2014-08-25 22:20:01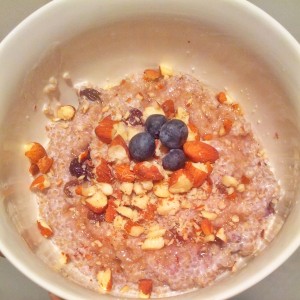 Ingredients
1/2 cup rinsed White Quinoa
1 cup Coconut Milk
1 Tbs Almond Meal
2 Tbs Raisins (NOT containing vegetable oil)
2 Tbs Blueberries
1 tsp Cinnamon
Handful Almonds (or other nut)
Swirl of Honey
Instructions
Boil the kettle to get things moving quicker and pour 1 cup into a pot
Add the quinoa and simmer with a lid on for 8-10 minutes
Add the Coconut Milk, Almond Meal, Raisins, Cinnamon and Blueberries and simmer for a further 5 minutes stirring frequently
While this is happening I wrap the almonds in some paper towel and smash them
Top the finished porridge with the raw nuts, a couple of fresh blueberries and a swirl of honey
Notes
Keep an eye on the simmering quinoa as if you are gone to long the water will evaporate and you will start to burn the quinoa.
A ModernCaveMan http://www.amoderncaveman.com/